EdStaff are a Leading Supply Agency for teachers and schools, based in the North West.
We recruit teachers,  cover supervisors,  teaching assistants and exam invigilators, complete stringent vetting checks and then find suitable placements in schools across the North West.
EdStaff was launched in 2004 by two ex teachers who have spent many years working in the education recruitment industry. This knowledge and experience has proved instrumental to the success of EdStaff. We understand what teachers and schools want from personal experience and we work hard to meet the needs of both.
Our team of highly experienced and dedicated consultants focus on the individual needs of every school and every candidate.
Our aim is to be customer focused and to provide the best possible service to both teachers and schools.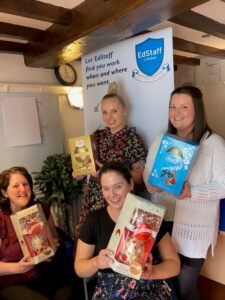 ---
What our Teachers say about Edstaff
"Having worked for several agencies since 2002, I have worked exclusively with Edstaff for the last couple of years. It is like being part of a family business, not working for a face you don't know. They do their utmost to keep you in work; this academic year I have been in work straight through! I am very happy to be part of the Edstaff team and long may our relationship continue."     (Margaret, 2015)
''Working with EdStaff has been a dream! I couldn't have asked for a more helpful service. It's been such a quick process getting me into school and helping to sort things out for me. Thank you so much for your help. '' – Matthew, July 2020
'' I continue to enjoy working for Edstaff, especially on a day to day basis. The wide variety of work and schools keeps things interesting. Agency staff has a personal touch, and are keen to accommodate client and worker. The business has a very good reputation on the supply circuit too. '' – Mark, July 2020
''Edstaff was very quick in emailing staff when the furlough scheme was announced. As lockdown started to ease I had emails from EdStaff asking about work in September and what are required etc. It was all professional and courteous and staff who rang me directly always inquired about my health and wellbeing which was appreciated. '' Helen, July 2020